'Chilling effect on pro-competitive behaviour' puts cartel criminalisation back on ice
The Government has changed tack on the proposed criminalisation of hard-core cartel conduct. Minister of Commerce and Consumer Affairs Paul Goldsmith announced yesterday that the Government intends to remove the criminal sanctions for cartel behaviour currently contained in the Commerce (Cartels and Other Matters) Bill (Cartels Bill).
The announcement will be welcome news for businesses which have expressed strong concern about the potential chilling effect that criminalisation could have on legitimate pro-competitive activity. Despite previous assurances that those risks could be effectively managed by clarifying the scope of cartel prohibitions and exemptions, the Government has changed its stance on the introduction of criminal sanctions. Minister Goldsmith stated, "in weighing up the benefits of criminalising cartel activity, the Government had to consider the significant risk that cartel criminalisation would have a chilling effect on pro-competitive behaviour between companies."
Criminalisation is a controversial issue, not least because of the difficulty in evaluating its deterrent effect. There have been no criminal prosecutions for cartel conduct to date in Australia despite the introduction of criminal sanctions in 2009. This comes down to the higher standard of proof in criminal cases, the difficulty in proving intention on the part of a defendant and, quite possibly, reluctance on the parts of the Australian Competition and Consumer Commission and the Director of Public Prosecutions to bring a first criminal case that might be lost.
Criminal prosecutions have also been scarce in the UK which introduced criminalisation in 2003 despite the removal of the dishonesty element of the offence in 2013 (making it easier for the authorities to establish the offence).
The introduction of criminal sanctions in New Zealand was scrutinised by the Productivity Commission which reported in 2014 that the Cartels Bill "runs the risk of discouraging productivity-enhancing collaboration".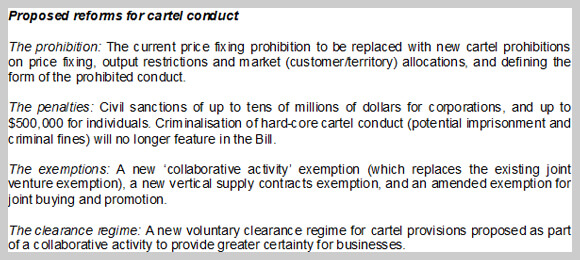 Changes to the Cartels Bill will be introduced by way of Supplementary Order Paper (SOP). The Bill is likely to be put back on the legislative agenda when Parliament resumes sitting in February next year, and could pass in the first quarter of 2016.
A link to the SOP can be found here.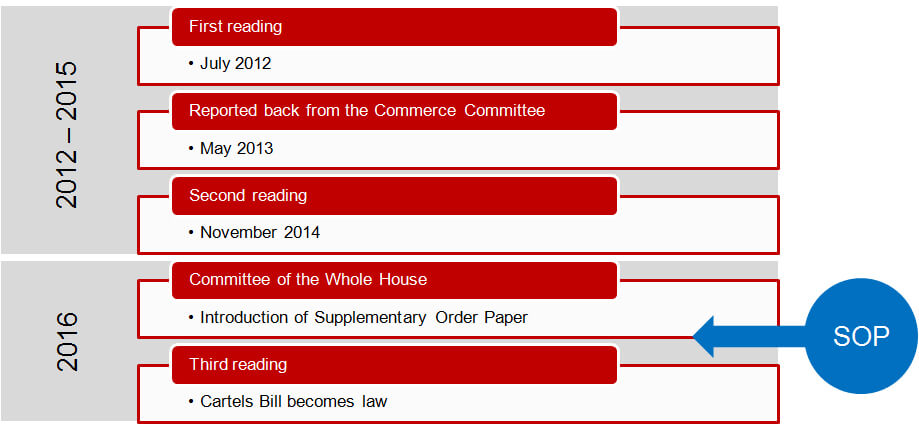 Sorry we couldn't find any results relating to your query.