In January 2022, the Reserve Bank of New Zealand (RBNZ) announced the appointment of Karen Silk as the Assistant Governor / General Manager of Economics, Financial Markets and Banking. The role, which she took up in May 2022, means that Silk is one of eight Executive Team members at the Reserve Bank, plus a member of the Monetary Policy Committee.
A highly respected leader across retail and wholesale banking, wealth management, financial market infrastructure and payment systems, Silk has also brought considerable experience in climate change and risk management to her role. Her passion for building sustainable business with both economic and social outcomes led to her appointments as Chair of the joint Sustainable Business Council and Business NZ Climate Leadership Initiative in 2015, and Co-Chair of the NZ Sustainable Finance Forum in 2019.
MEttle spoke to Silk about the road she has travelled to this point, and what she sees as her key priorities in her current role.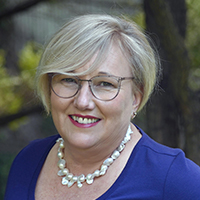 It's time to start giving back, and I believe you need to do that in the place that you love. For me that's New Zealand.Karen Silk, RBNZ
I was born and raised in Whanganui. Along with my three siblings, I benefited from being part of a large and close extended family. My grandmother raised 10 children through the Great Depression and a world war, showing great strength and courage. Growing up, we were taught to respect that strength, along with her values of fairness and equity. Each of these have played a part in my career and continue to resonate strongly with me today.
After completing my secondary schooling at Whanganui High School I attended Canterbury University, where I met my husband David and completed a Bachelor of Commerce.
Becoming a banker was never a burning ambition
I joined Westpac's graduate programme after I tagged along with a friend to their recruitment presentation. The pitch was good, a large organisation with many and varied career paths – it all sounded good to someone who didn't have a firm view on what they wanted to do.
You had to be strong and courageous to work in there, particularly if you were a woman, and that suited my character.Karen Silk, RBNZ
That changed when I joined the financial markets team. Here was a business that had pace and energy and in many respects was breaking new ground in the late eighties; it really captured my interest. You had to be strong and courageous to work in there, particularly if you were a woman, and that suited my character.
Success there led to roles working across most facets of institutional banking over the next 15 years, initially at Westpac, then Credit Agricole Indosuez, before returning to Westpac again. During that period my two amazing children were born, and like all parents David and I juggled the challenges of building careers while caring for them, supported by family.
Moving to Australia
A diversion from institutional banking to set up Westpac's Agribusiness unit in the early 2000s was followed by a move to Westpac in Australia. Spending some time at Westpac Group was always on the agenda, and over the next 6 years I led their Corporate and Institutional Property teams, through the GFC, before becoming Global Head of Debt for Westpac Institutional Bank.
Experience gained in the mid-1990s on corporate workouts in New Zealand proved extremely useful in my initial years, with many Australian bankers having never experienced a significant downturn – at the time Australia had not experienced a recession in over 17 years! During the latter period, I gained exposure to larger and more complex markets, leading teams in not only Australia and New Zealand but also Singapore, the US, and UK. It was also in this period that I had my first taste of the emerging field of sustainable finance, something that would prove invaluable a few years on.
Moving back to New Zealand
New Zealand has always held a strong pull for me, so when the opportunity arose to lead the Institutional team at Westpac back in New Zealand, it was time for the family to move home. I recall Gail Kelly, Westpac Group CEO at the time, asking me why I was doing it. My response was, "it's time to start giving back, and I believe you need to do that in the place that you love. For me that's New Zealand". She couldn't argue with that.
Over the next few years my institutional remit at Westpac expanded to include business banking, Westpac Insurance and BT Funds Management. In 2018, I pivoted to leading the newly created Experience Hub, a multi-functional unit responsible for the design and delivery of products and services for Westpac customers. Data, technology, CX/UX design and agile operating methods became my world, and once again transformation was a key component of my role.
In 2020, the Sustainable Finance Forum's 2030 Roadmap for Action was released – a plan for a more equitable, sustainable and inclusive financial system in Aotearoa New Zealand. As Co-Chair of the Forum, I'd had the privilege of working collaboratively with more than 200 stakeholders over 2.5 years to develop a set of recommendations that we believed would support a shift in the mindset of market participants, and create the conditions for greater recognition of environmental and societal impacts in financing and investment activity.
Whilst there were sceptics and challengers to this work at the time, we know that pool is shrinking. This programme of work and the gradual implementation of its recommendations is now supporting New Zealand's reputation and aligning us with other international markets who are rapidly embracing similar recommendations. I'm immensely proud of the work we delivered and the role it has played in the development of sustainable finance and investment in New Zealand.
Moving to the RBNZ
After 30+ years of working in the private sector, I was approached to join the RBNZ. Again, this wasn't something I had contemplated before but I was attracted to applying what I had learnt over the years to matters that have significant influence and impact across not only the financial system but the New Zealand economy as a whole. For me this was taking giving back to a whole new level.
There is no doubt that I have landed in the role at a time when New Zealand is facing some significant challenges, and there is immense pressure to help navigate the economy back to a more sustainable footing following the advent and effects of responding to COVID-19. As Assistant Governor, Economics, Financial Markets and Banking, my focus is on all things money. Its form, how it flows through the economy and the way it influences the economic wellbeing and prosperity for all in New Zealand. This role, the people I work with and those that I lead, are all deeply committed and highly cognisant of
the importance and impact of what they do. I have no doubts about their level of commitment, nor their strong desire to do their best to get the outcomes we are all seeking.
I'm often asked how different this role is to prior ones, and my answer is in many ways it's not. I'm still considering many of the same economic and organisational issues that I have had to consider through my whole time in banking. The lens, however, that I'm asked to apply today is different. Previously my assessment was premised on the impacts to a single organisation or to those stakeholders directly engaged with that organisation. Today I'm often required to consider impacts and make decisions that will have impacts across the whole economy and those within it. The consequences of the decisions are invariably greater and so the time taken to make them often needs to be longer and definitely well considered. When you are sitting on the other side of the fence that's not always so easy to understand, I definitely have a greater appreciation now!
Trust is the foundation of great relationships. If you want to influence outcomes then you need to build that. Some of the best leaders I have worked with were great at being able to place themselves in others' shoes, see issues from others' perspectives, and develop greater trust by doing so.I have a pretty unique opportunity to do that in this role, having worked on both sides of the fence. If I can influence better outcomes by using that experience and facilitating a greater appreciation of the many stakeholders perspectives, then I will have gone a long way to doing my job.